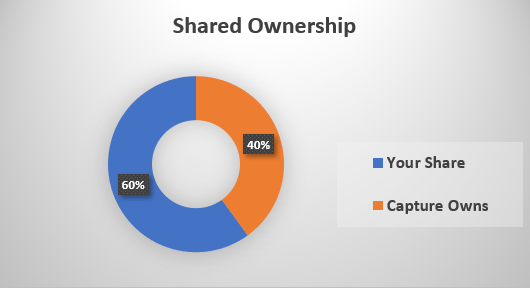 Shared Ownership
Buying a Shared Ownership unit with or without a mortgage depends on your circumstances.
Buyers are normally expected to provide a deposit for their share of the purchase.
If you purchase a Shared Ownership dwelling you will own an initial share of between 60% and 75% of the property and Capture Housing Limited will own the remaining share. We will look to sell you the maximum share that you can afford.
As a result, you will pay a rent on the share that Capture owns and the property will be leasehold. This property is your home and therefore you don't need our permission to decorate it how you wish.
We intend to charge a minimum of 2.25% rent on our share to make the product as affordable as possible. Rent increases will happen once a year and be at a minimum of 0.5%. Full details are set out in the lease.
In addition there will be an estate management charge which will be set out in the lease.
The vast majority of the legal work is done by using a "model lease" that has been published by the government.
To clarify, this approach is needed by mortgage lenders to provide consistency around key terms and conditions.
Major variations from a standard lease may mean that a lender would not offer a mortgage.
As a result, we recommend using a solicitor that has experience in Shared Ownership sales.
Whilst we cannot stop you from using your solicitor, using one that has undertaken this type of work before will significantly speed up the legal process.
Please follow the link to Mortgage Advisors and Legal Advisors.
Purchasers are allowed to buy additional shares (once they have moved in) and "staircase up" to full ownership which will be freehold.
We will sell these in increments of a minimum of 5% additional share.
There will be fees to pay for purchasing additional shares which will be clarified if you wish to take up this option.
Capture is committed to reinvesting staircase receipts locally.
You will either need to be registered on Island Homefinder or https://www.helptobuyagent3.org.uk/
For more details please download our Shared Ownership Factsheet.
YOUR HOME MAY BE REPOSSESSED IF YOU DO NOT KEEP UP WITH REPAYMENTS ON A MORTGAGE OR ANY OTHER DEBT SECURED ON IT.
Shared Ownership
Full market value (£):
Share percent:
Share price:
Deposit needed:
Mortgage:
Unsold value:
Monthly rent from:
Based on unsold equity at 2.25% of value
Monthly service charge:
Defaults to £0.00
Based on % over years
Estimated mortgage per month:
Estimated monthly costs: